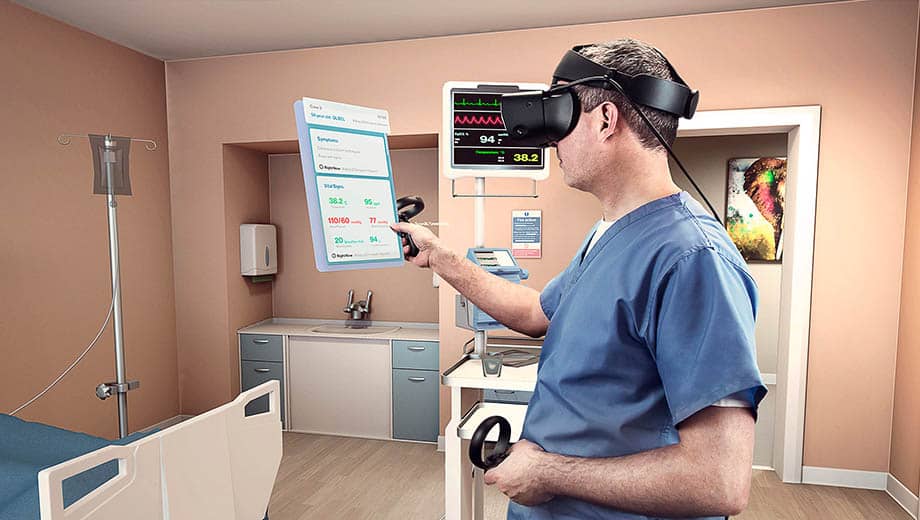 We created a VR training experience for breakthrough cancer treatment
CAR-T Therapy VR training
To develop a simulation to educate healthcare professionals on the treatment procedures for patients experiencing side effects such as CRS and neurotoxicity, post CAR-T infusion (a new cancer therapy), as well as raising awareness of the management protocols in place and improving confidence of physicians to treat these side-effects​.
A virtual reality training tool allowing the user to take the role of a decision-making healthcare professional, tasking them to treat 4 patients experiencing symptoms post CAR-T therapy.
Their challenge:
Treat the patient
Alleviate their symptoms
Make critical decisions at points in the journey e.g. escalate to the ICU
Users progress through the experience by administering medication, referring to medical notes, and answering questions.
The VR experience is supported by a web-based training platform to ensure maximum ROI, with all data on usage and compentency tracked from both the VR and web experience and displayed in a custom analytics website.
92% of the users judged the usefulness of the scenario to be either very or extremely useful, with 94% of users surveyed from a test group expressing their interest in receiving more educational content in this format.
We worked with Cassette to develop a VR training tool for a healthcare client. Cassette worked as an extension to our team, and helped us throughout the process from initial concept development, through to design and delivery of a tool that met and exceeded the client brief. Their expertise resulted in a highly effective solution that is currently being rolled out across Europe.
Managing Director at Synergy